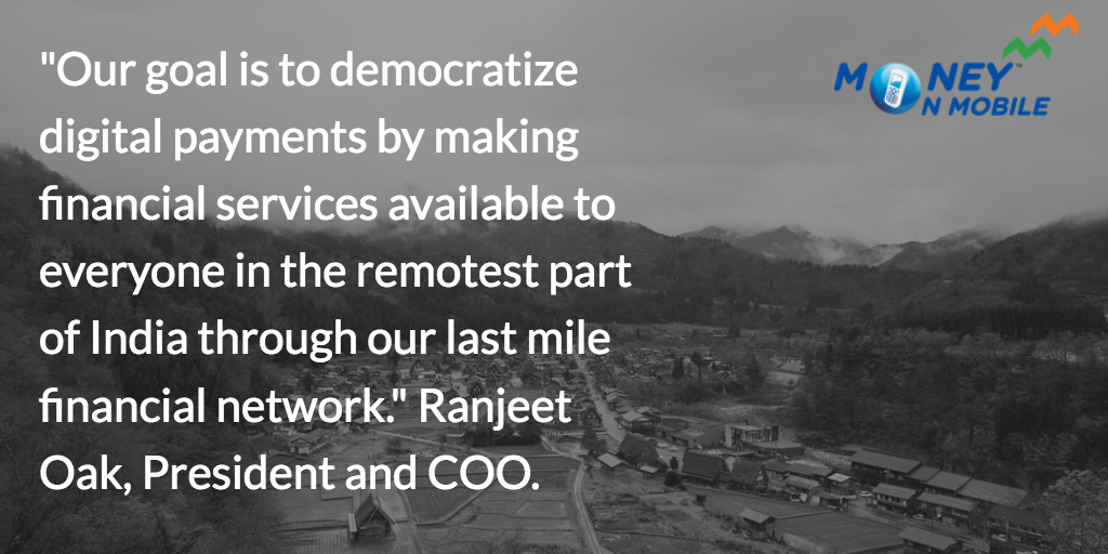 MoneyOnMobile Doubles Addressable Market Size of It's Money Transfer Product
Adds 116 New Banks So More Customers Can Send Money Through It's Agent Network
Monday, February 20, 2017 — MoneyOnMobile, Inc. (OTCQX: MOMT) announced it's mobile payments platform, one of the largest in India, now has access to an additional 116 banks throughout India, doubling its potential customer base, potential revenue and processing volume. Access to these new banks means more customers across the country can complete financial transactions digitally at one of MoneyOnMobile's at 325,000 retail merchants.
"This is an exciting move for MoneyOnMobile to expand into smaller cities, towns, and villages with little financial infrastructure," said Harold Montgomery, CEO and Chairman of MoneyOnMobile. "There are only 155,000 branch banks in India and about 200,000 ATMs – one-tenth the number per capita compared to the United States. So, the 600,000 villages are terribly under-served. When we get MoneyOnMobile into a retail store in a village, the store really becomes a financial services center."
Ranjeet Oak, President and COO, MoneyOnMobile said, "Our goal is to democratize digital payments by making financial services available to everyone in the remotest part of India through our last mile financial network. We believe banks appreciate the services we provide, as it enables them to get more deposits and it is also a new opportunity for the bank customers to perform remote digital transactions."
When customers visit a MoneyOnMobile retail location, they give the merchant cash they wish to deposit into a bank account, for themselves or someone they know. Before today's announcement, customers were limited to using banks that are connected to the Immediate Payment Service (IMPS). This expansion is made possible by connecting to the National Electronic Funds Transfer (NEFT) system, which is considerably larger, in terms of money flow, than the IMPS.
MoneyOnMobile believes it is possible to double its processing volume with access to this larger pool of transactions. And, it will enable retailer partners to earn more revenue because MoneyOnMobile supports a new family of transactions those merchants could not process before.
How adding 116 new banks helps our customers, our merchants, and our bottom line
Contact us
Greg Allbright
VP of Corporate Communications
Navaz Damania
VP of Corporate Communications