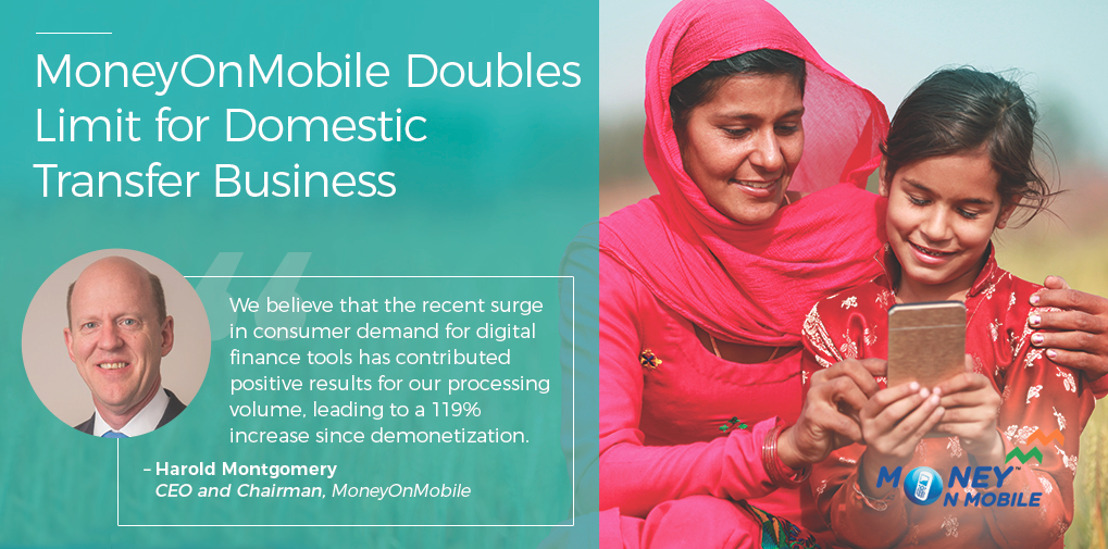 MoneyOnMobile Doubles Limit for Domestic Transfer Business
Hike in processing limit can increase processing volume & revenue
Wednesday, March 8, 2017 — MoneyOnMobile, Inc. (OTCQX: MOMT) announced an agreement with YES! Bank which provides its Indian subsidiary a 100% increase in the daily processing limits for the domestic money transfer business, also known as Domestic Remittances or Person to Person (P2P) transfers.
"We see strong demand for Domestic Remittances throughout India and have been constrained by the limits of our processing volume. We believe this expanded agreement will allow MoneyOnMobile to capitalize on this demand and continue our growth trend thereby increasing processing volume and revenue," said Harold Montgomery, Chairman and CEO of MoneyOnMobile. "We believe that the recent surge in consumer demand for digital finance tools has contributed positive results for our processing volume, leading to a 119% increase since demonetization."
"We are excited to expand our growing partnership with YES! Bank, which began in December 2016, and appreciate the support we have received from the team there," added Ranjeet Oak, President of MoneyOnMobile.
Contact us
Greg Allbright
VP of Corporate Communications