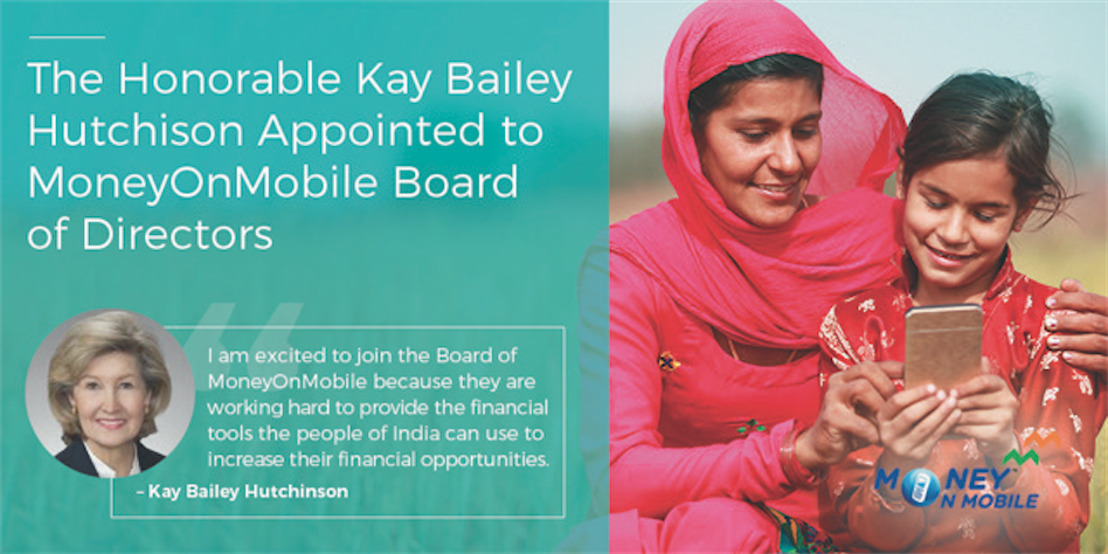 The Honorable Kay Bailey Hutchison Appointed to MoneyOnMobile Board of Directors
Hutchison will use Directorship to Focus on Empowering Women and the Underserved
Friday, January 5, 2018 — MoneyOnMobile announced today that former U.S. Senator Kay Bailey Hutchison will serve on its Board of Directors.
Sen. Hutchison currently serves as senior counsel at Bracewell LLP, and a member at Bank of America's Global Advisory Council. In 2013, she retired from the U.S. Senate after 20 years of service representing the citizens of Texas. She was the first woman to serve as senator from Texas, and ultimately served in the Senate leadership, first as Vice-Chairman of the Republican Conference and later as Chairman of the Republican Policy Committee, the fourth-highest ranking Republican senator.
"During my tenure in the U.S. Senate, I worked hard for women to have a level playing field when it comes to securing their own financial future," Sen. Hutchison said. "I am excited to join the Board of MoneyOnMobile because they are working hard to provide the financial tools the people of India can use to increase their financial opportunities."
"We are thrilled to have Sen. Hutchison join our board," said Harold Montgomery, Chairman and CEO of MoneyOnMobile, Inc. "She brings a wealth of knowledge in technology, and government that will help our company immeasurably as we grow and expand the financial infrastructure of India. She also brings a passion and commitment to improving the lives of women and their families through financial empowerment, which is the heart of our MoneyOnMobile mission."
Sen. Hutchison is also an acclaimed author, using her experiences to write four books that celebrate the contributions of women in the history of the United States. Her most recent book is Unflinching Courage: Pioneering Women Who Shaped Texas, released in April 2013.
Sen. Hutchison will be the fourth member of the MoneyOnMobile, Inc. board of directors, joining Harold Montgomery, Jim McKelvey, and David Utterback.